MISSSEY Presents: An Afternoon In Conversation with Leila Mottley & Chinaka Hodge
Tickets are available NOW. Limited Space is available in person and masks will be provided.
Join our community of change-makers in this discussion of how we can co-create a world where girls are safe from sexual exploitation, where they can thrive.
January is Human Trafficking Prevention Month and MISSSEY is elevating this important issue.
This is an invitation for you to boldly engage with the real circumstances that lead to exploitation and link arms to forge pathways out.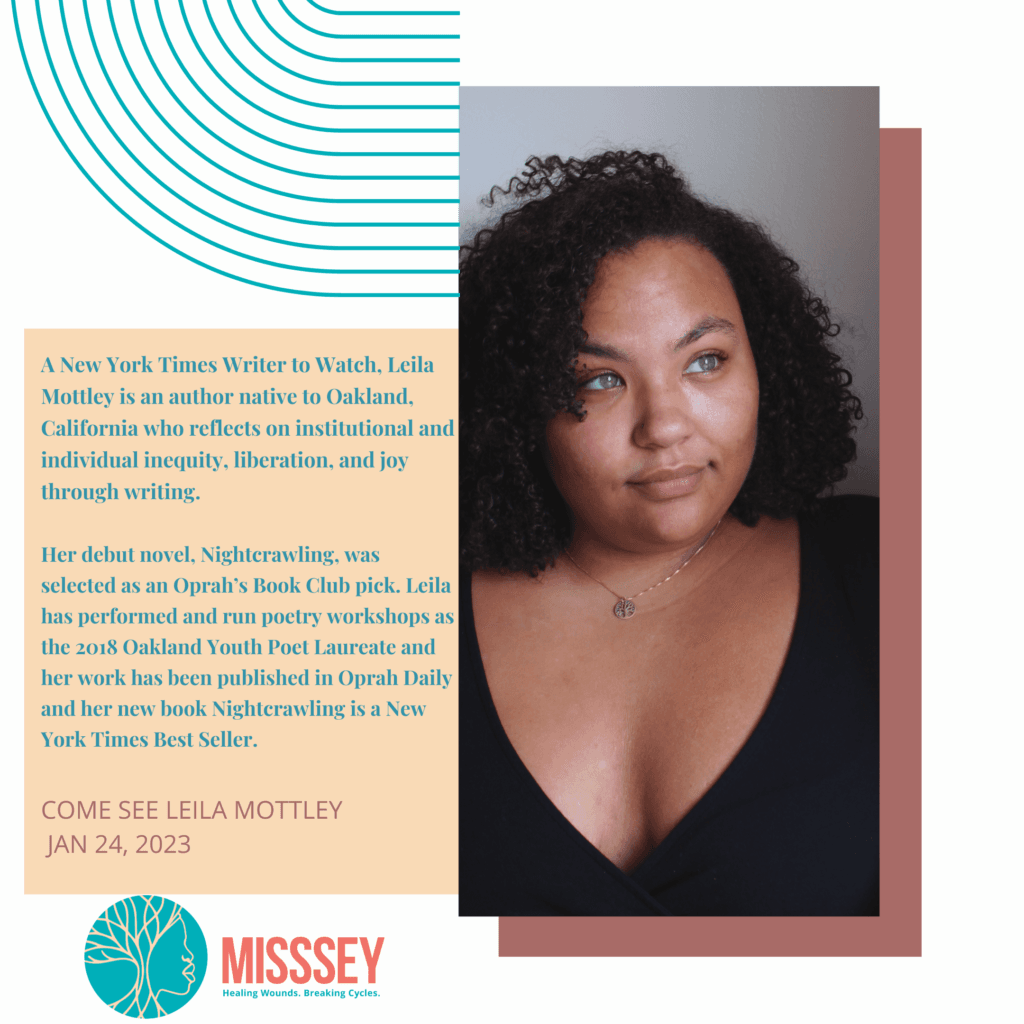 MISSSEY is bringing Leila Mottley and Chinaka Hodge together in this discussion on exploitation in our community. At the heart of Human Trafficking Prevention and Awareness Month we are bringing our community together to discuss the realities of CSE (commercial sexual exploitation) in Oakland.
Leila Mottley is a rising literary star and poet from Oakland. Her novel Nightcrawling is a New York Times best seller, an Oprah Book Club Pick, and was on the Booker Prize Long List. MISSSEY has invited her and Chinaka Hodge together in a discussion that will give unique insight into her dazzling novel about a young Black woman who walks the streets of Oakland and stumbles headlong into the failure of its justice system.
Chinaka Hodge is an Oakland poet, educator, and writer for the stage and screen who imagines what the future needs, and then creates it through her work.
"Mottley writes with a lyrical abandon that reminds us she was once Oakland's youth poet laureate."

Lauren Christensen, NY Times
Read the New York Time's Review: "IN THIS SEX TRAFFICKING RING, THE JOHNS ARE THE OAKLAND POLICE" – Lauren Christensen
Read Nightcrawling, a book dedicated to "Oakland and it's girls", by Leila Mottley
Since 2007, MISSSEY has led the Bay Area's services for youth vulnerable to and experiencing sexual exploitation and violence. We are a Black-led, youth and survivor-informed non profit organization rooted in Oakland. For our 15th Year of Service Campaign we are bringing our community unique lectures and healing events with leading figures in the arts, healing, and social justice. We will continue hosting events with outstanding cultural figures who see the value in our mission.
Questions? Reach out to 510-214-6781
January 24
@
6:00 am
–
8:00 am
PST